– On Monday there was a column of smoke north of Nuremberg: A major fire broke out at the construction site of a day care center in Grünewaldstraße. The Katwarn disaster alert app went off and in the evening an excavator arrived to support firefighters.

It is still unclear how the fire could have started at the Grünewaldstraße construction site. A plume of smoke hovered over the north of the city around 1:30 p.m. The Katwarn disaster alert app has been triggered. "Close windows and doors and turn off the ventilation and air conditioning," he says. In addition, motorists should largely avoid the area.
Residents in the immediate vicinity have already had to leave their homes for security reasons. Mayor Christian Vogel, building adviser Daniel Ulrich and youth, family and social affairs adviser Elisabeth Ries are on site and have gotten an idea of ​​the situation. When the fire brigade arrived, the entire ground floor was on fire and the flames had already spread to the first floor, explains Thomas Schertel of the Nuremberg fire brigade. Firefighters immediately began to extinguish the fire, but had to withdraw a little later because parts of the load-bearing structure and the ceiling construction were in danger of collapsing. Since then, it can only be removed from the outside.
Inside the yard, however, it still burns, open fires blazing again and again. The extent of the smoke cloud therefore increases again and again. A private demolition company was contracted to support firefighters with selective openings of the building. It is extremely difficult to extinguish the fire, according to the fire site, three turntable ladders are currently in use. Police are currently interviewing construction workers who worked at the daycare to determine the cause of the fire.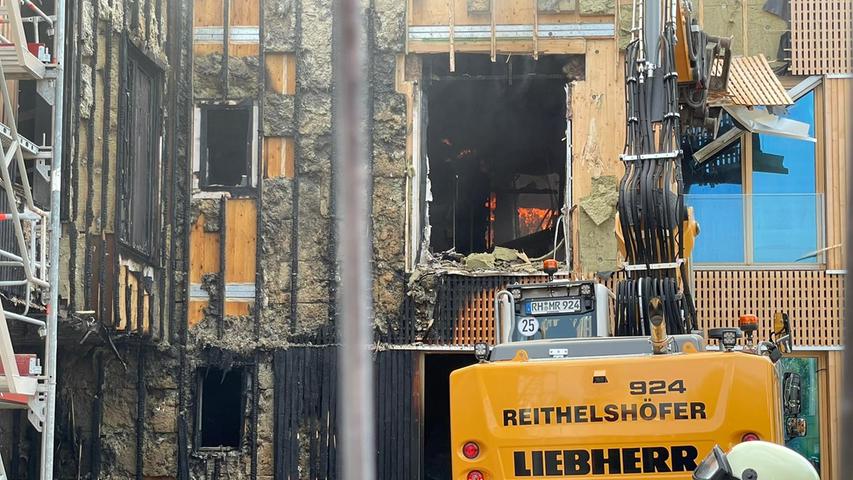 Today, an excavator from a private demolition company helps firefighters carry out the extinguishing work.
© ToMa
The building was originally designed for ten groups, four kindergarten groups and six after-school care groups, city officials explained at a news conference. 250 children would have found a place here. But the wooden building can no longer be saved. According to the building officer, it must be completely demolished. When completed, the house would have cost around twelve million euros, so property damage would likely be in the millions – it is still unclear how high the damage to other houses in the area is.
However, it is still unclear where the children enrolled for the new school year will go. The city wants to build new ones as soon as possible. But first, the charred building must be demolished and the construction must be re-tendered. The costs will be correspondingly higher, according to Mayor Vogel. Because building materials have become even more expensive due to the war in Ukraine.
This article was updated on May 9, 2022 at 8:11 p.m.
---
All current police reports can be found here.
---