As the network provider NiceHash announced on its blog, the "Quick Miner" mining application developed under the code name "Excavator" allows for the first time to completely bypass the Mining Brake 2.0 of the LHR graphics cards of the Nvidia's GeForce series.
The 2nd mining brake does not hold either
In order to be able to exploit the full potential of a graphics card with Light Hash Rate ("LHR") when mining, the NiceHash "Quick Miner" in the latest and already well advanced preview version 0.5.4.0 RC, c 'ie the current candidate version of the application, provided.
We are happy to announce that NiceHash Quick Miner ("Excavator") is the first mining software that fully (100%) unlocks LHR graphics cards!

NiceHash
A current GeForce RTX 3080 Ti (test), which already has mining brake 2.0 ("LHR") right out of the box and actually maxes out at 60-80 MH/s when throttled, should be used with the NiceHash Quick Miner 0.5 .4.0 up to being good at 120 MH/s.

The Polish site Benchmark.pl indeed attests to a constant hash rate of 117 MH/s for an overclocked and optimized GeForce RTX 3080 Ti in terms of efficiency after the update of the test.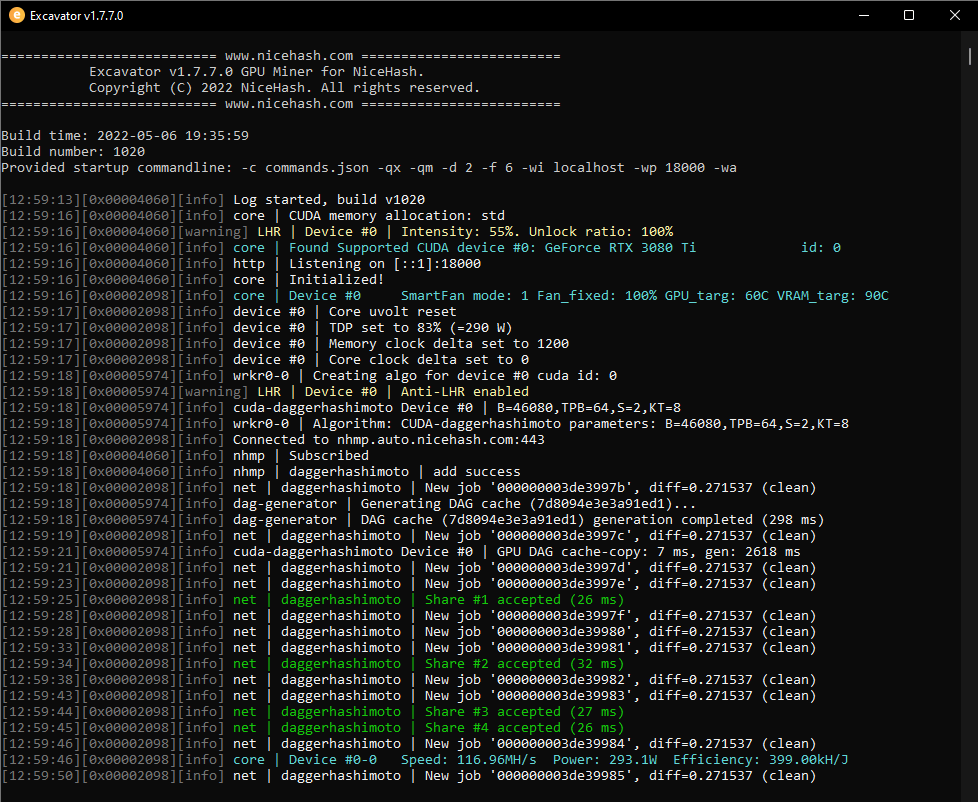 Optimized, the GeForce RTX 3080 Ti clocks in at around 120 MH/s and a power consumption of 280-290 watts in both cases, leading to significantly improved efficiency of LHR graphics cards when mining Ethereum.
Possible consequences for players too
Bypassing the mining brake again could also have a negative impact on the DIY market in the form of higher prices and less availability and therefore have a negative impact on players. After GeForce and Radeon recently moved closer to RRP, increased demand for Ampere could lead to further price increases.
However, gamers are already slowly preparing for the Radeon RX 7000 vs. GeForce RTX 4000 GPU duel.
The developers have summarized more information about the new version of NiceHash "Quick Miner" on the official NiceHash blog.
Updated on 09/05/2022 at 10:36