With the Galaxy A53, Samsung already has a very attractive mid-range smartphone in its range, but now the Galaxy M53 is followed by another model that looks no less interesting. But there are big differences between the two smartphones, even though the prices are very similar.
Samsung Galaxy M53 5G with 108 MP camera
Original post:
Samsung's M-series is a little insider tip when it comes to mid-range smartphones. As with Class A, you get a lot of hardware for your money, but you have to do without some properties. For example, M-class phones are not waterproof, which is the case with A-class. Nevertheless, the new Samsung Galaxy M53 5G is a very exciting smartphone on paper. This is referenced on Amazon for 469 euros (see on Amazon) and is therefore slightly more expensive than the Galaxy A53 5G for 449 euros (see on Amazon). But what do you get at this price?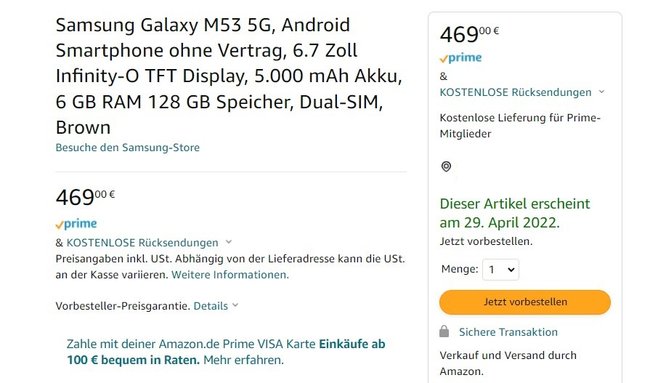 The most important feature of the Galaxy M53 5G is the 108 MP camera (source: Samsung). Samsung had them so far only in absolute high-end smartphones like the Galaxy S22 Ultra (for testing). In the Galaxy A53, you have to make do with a 64 MP camera. It will be interesting to see how good the image quality is in the mid-range with such a high resolution.
Otherwise, the Galaxy M53 5G is very well equipped. There is a 6.7-inch 120Hz AMOLED display, the MediaTek Dimensity 900 as a processor, 6 GB of RAM and 128 GB of internal memory, expandable via microSD card. The battery measures 5,000 mAh and can be recharged quickly with 25 watts. The fingerprint sensor is on the side and not on the screen. Android 12 with One UI 4.1 is used as the operating system. It is not known if there is also a five-year update guarantee. All in all a very complete package.
For comparison: The Samsung Galaxy A53 presented in detail:
Samsung Galaxy M53 5G coming soon
According to Amazon, the launch of the Samsung Galaxy M53 5G is scheduled for April 29, 2022. The price of 469 euros was also revealed there. No information is available directly from Samsung. It is entirely possible that something has changed because of this. However, Amazon is considered a relatively reliable source.