5:45 p.m.
Small adjustments to DRS zones in Miami

No wheels have turned yet in Miami, but officials from the International Automobile Federation (FIA) have again implemented changes in all three DRS zones.
– Zone 1: The measuring point after curve 8 has been moved back seven metres. DRS activation can also take place 37 meters earlier, i.e. shortly after turn 9.
– Zone 2: The measuring point after curve 16 on the back straight has been moved forward by three metres.
– Zone 3: The measuring point of curve 17 has been moved forward by four metres.
Mercedes' circuit sketch gives an impression of the new Formula 1 circuit, and the three DRS zones are also noted there.
9:57 p.m.
Tomorrow more!
And that's it for Formula 1 on Thursday in Miami. Stephen Ehlen thank you for your attention today! As usual, my colleague Ruben Zimmermann will take over at this point from the live ticker tomorrow and I will return to the session's live ticker for the remainder of the event in Miami. So until then, good evening!
---
9:49 p.m.
Why Mercedes rolls with a colored rear wing
The Mercedes of Lewis Hamilton and George Russell are rolling in Miami with colored rear fenders, and there's a reason for that: Together with sponsor FTX, the team wants to auction off the rear fenders used in the race in the United States after the weekend and donate the profits to a good cause.
The brightly colored drawing of the rear fenders of the Mercedes comes from artist Mad Dog Jones.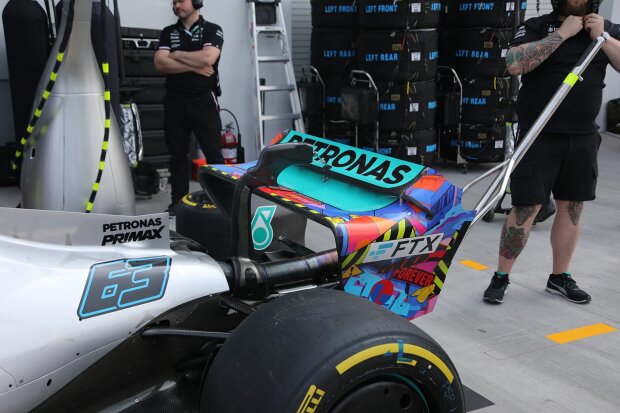 © Giorgio Piola
---
9:34 p.m.
2023: How Gasly imagines the future
Pierre Gasly could change teams for the 2023 season and either return to Red Bull or turn his back on the energy drink company altogether. He is asked if he has ever given more thought to this.
The Frenchman answers evasively and first addresses the current situation at AlphaTauri in the 2022 season. "What is most important for me is to do my best with the car I have. I want feeling like I'm doing my best with the equipment I have."
Off the track, of course, he ponders what his future might look like. "My situation is clear, I have ambitions," says Gasly. "There is interest. There are discussions with Red Bull and AlphaTauri on how to proceed."
For now, however, he can't say much more about it, other than: "The right decision comes at the right time."
---
9:21 p.m.
Gasly expects "many overtaking maneuvers"
My colleague Adam Cooper just spoke to Pierre Gasly. The first was the Miami Circuit, which Gasly says "seems fast." His verdict: "There are two very long straights and it's great because we risk seeing a lot of overtaking."
The biggest driving challenge is the first sector with lots of fast turns. Turn 7 in particular commands respect for him, says Gasly. "There, it goes almost endless to the left. You can't see the corner coming out of the cockpit. The tires are suffering quite a bit at this stage."
According to Gasly, a question mark is the pit entrance at turn 19 (see photo). A chicane makes the turn more difficult for the drivers. "It's tight," Gasly said. "It all depends on how much you can reduce the angles. We tried that in the simulator. If you can reduce the angles a bit, it's easier. But if we can't touch the white line, it should be quite difficult ."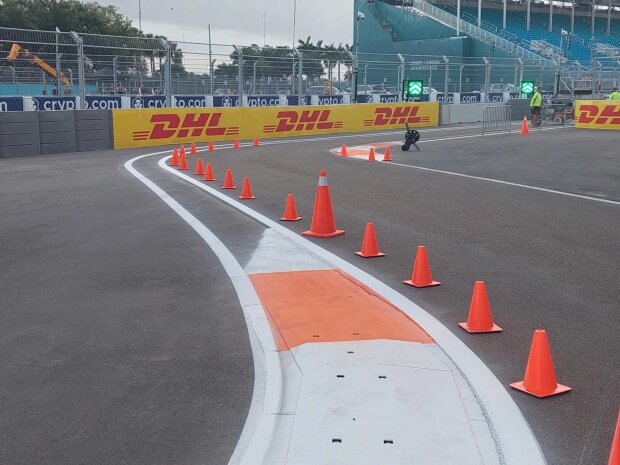 © Adam Cooper/Motorsport Network
---
9:12 p.m.
Bottas also got lost
Valtteri Bottas didn't have to go as far as McLaren boss Brown to get his special 'date' before the Miami Grand Prix: he went to the Miami Dolphins of the American football league NFL and tasted it Training of football cracks.
---
8:54 p.m.
McLaren boss Zak Brown takes flight
Before the Formula 1 race in Miami, McLaren boss Zak Brown took to the skies – with the US Navy's aerobatic pilots, the so-called Blue Angels. He received a 45-minute demonstration flight including two "screws" at around 650 km/h, loops were also on the program. The highest load for pilots Griffin Stangel and Brown would have been 7.4g.
It is unclear how well Brown coped with the high-speed flight. On the majority of the shots, however, the boss of McLaren makes a good impression…
---
8:41 p.m.
Video: Miami Formula 1 countdown
It won't be long before the Miami International Autodrome is officially opened by Formula 1. And here's Sky TV's "countdown" with some up-to-date information on the first US race of the year!
---
Final preparations: the countdown to Formula 1 in Miami is on
For the very first time, Formula 1 is playing a weekend in Miami. Final preparations are underway.
---
8:33 p.m.
Pirelli declares 'conservative' tire choice for Miami
For the first Grand Prix in Miami, Formula 1 supplier Pirelli has nominated the C2, C3 and C4 tire compounds, ie the intermediate compounds in the range. You could also say: these are the standard tires of Formula 1, because C2 to C4 are most often used together.
Why also in Miami? Pirelli sporting director Mario Isola explains: "With a new track, we always tend to be conservative. It will be exciting to see how well the real data matches our simulations."
Because Miami International Autodrome was sprayed in advance with high-pressure jets, the track should "provide good grip right off the bat," Isola says. "And because the cars are likely running low to medium downforce, we might see some slippage in fast corners, especially on hard compound."
---
8:22 p.m.
Even without Ferrari's help: Ilott back at Alfa Romeo
Former Ferrari junior Callum Ilott has reappeared in the Formula 1 paddock and at Alfa Romeo, where he had already been active as a test and reserve driver during his Ferrari days. Ilott is in the same role in Miami, but this time Ferrari is no longer in charge. "He's just one of us," team leader Frederic Vasseur said when asked.
During the 2022 season, Ilott will be there as a substitute driver whenever Robert Kubica cannot be active due to other commitments – such as this weekend, where Kubica is driving in the World Endurance Championship ( WEC) in Spa. "We don't even need a contract for that," Vasseur continued. "Callum is family, after all."
The Briton actually had a completely different focus for 2022: Ilott drives in the IndyCar series in the US and is currently not pursuing any Formula 1 projects. "At least I'm not actively looking for a place. I have a great career ahead of me in IndyCars, but if something comes up [in der Formel 1]so good."
---
7:58 p.m.
Below the Mercedes W13
Our Formula 1 Technical Editor, Giorgio Piola, has been busy once again providing us with detailed photos of the pit lane in Miami. Also included: a photo of the Mercedes W13 underbody with the Venturi channels. Other shots show the rear wing of the Red Bull RB18 or the front wing of the Ferrari F1-75. And the same applies here: We will regularly update our tech photo series with new designs over the weekend!
---
Photo Gallery: Formula 1 Technology: Detailed photos at the 2022 Miami Grand Prix
---
7:37 p.m.
GOAT meeting in Miami
Two GOATs meet in Miami – at least the title "Greatest of All Time" sometimes goes to Formula 1 driver Lewis Hamilton and NFL superstar Tom Brady. Before the first American race of the year, the two met to play golf. We don't know if they understand golf as well as their usual profession…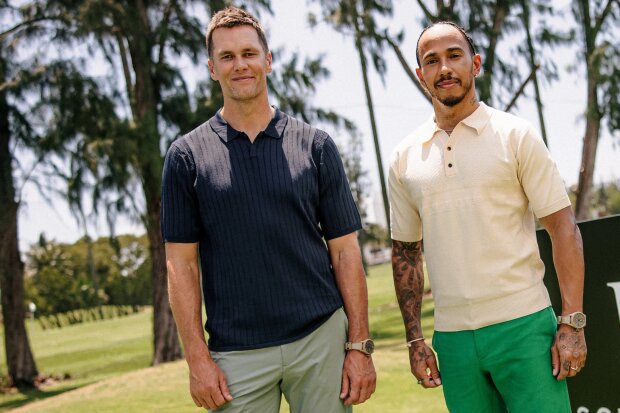 ©Mercedes
---
7:29 p.m.
Not everyone runs the Miami Trackwalk
At nearly 30 degrees Celsius and 5.4 kilometers long, not every Formula 1 driver faces a track in Miami. Valtteri Bottas switched to cycling, as did Max Verstappen or Sergio Perez. However, the majority of drivers have so far driven around the circuit to get a detailed picture of the temporary track. And is always the weather is perfect in Miami, but that may change (selectively) in the next few days…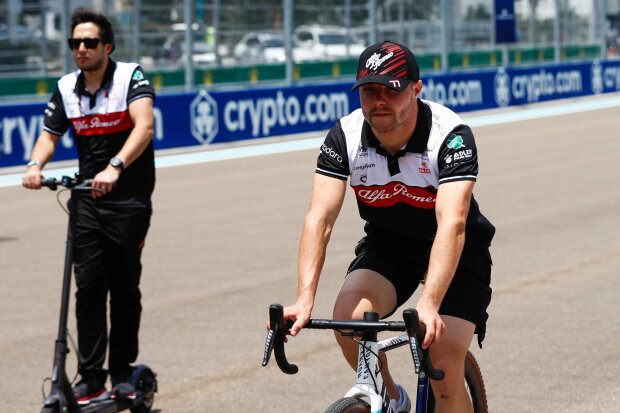 © Motorsport Images
---
7:13 p.m.
Formula 1 and Netflix continue
We have just received the message that the "Drive to survive" Formula 1 series will be continued. Formula 1 and streaming provider Netflix have extended their deal for two more seasons (numbers five and six). The fifth season will be filmed in the 2022 season and will be released in the spring of 2023.
The 'Drive to survive' format first aired in 2019 and brought many new fans to Formula 1, especially in North America, but not only there. The fourth season of the 2021 season achieved the highest reach yet and, according to Formula 1 information, made it into the top 10 on Netflix in ten countries.
---
7:06 p.m.
The somewhat different helmet design for Miami
It was already a topic today: some riders came up with a special helmet design for the first Miami Grand Prix. Take a look at this photo gallery, we've put together some pictures!
---
Photo Gallery: Special Formula 1 Helmet Designs for the Miami Race
---
6:42 p.m.
More on-site impressions from Miami
Our Miami Formula 1 race photo gallery is filling up. In the meantime, we've added other current motifs, including the first on-track drivers marching on the new course. And as the evening progresses (and the next few days), there will of course be more and more recordings. It is therefore worth checking regularly!
---