The NFT market fell sharply and interest plummeted. Compared to last September, sales have fallen by 92%. Digital goods bought at gold prices now have little value. This is at least true for NFTs in the consumer goods class.
According to the NonFungible tracker, the previous record was reached on September 24: 224,000 NFTs were traded there. In April, the low was only around 10,000 sales, the high for the month was just over 40,000. According to a report from the the wall street journal because the rise in interest rates makes speculative and therefore risky investments less attractive.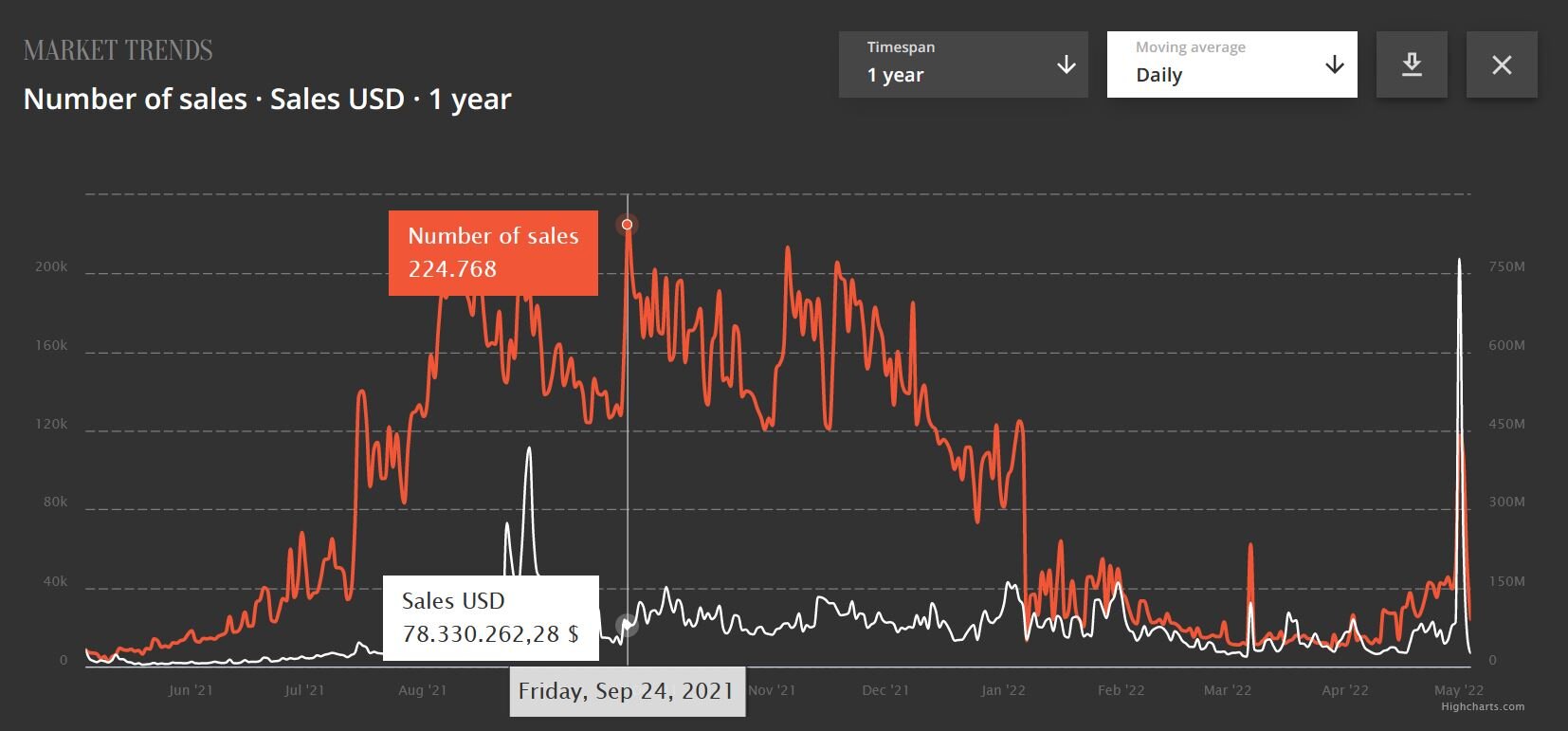 This interpretation is supported by a drop in prices. An NFT from co-founder of Twitter, co-founder Jack Dorsey's first tweet originally sold for around $2.9 million in March 2021, but only received a high bid of $6,222 in March 2022. Its owner explained that the value of NFTs "won't be realized for years" and that the value of the NFT tweet "is greater than anyone can imagine." He therefore rejected the command: "He who wants to buy it must prove himself worthy of it". A similar price drop was seen by an NFT hosted by rapper Snoop Dog, which initially sold for $32,000 and has now received $210 in ether bids.
True art continues to have value
While the owners of these NFTs claim that these are normal market fluctuations, the the wall street journal a more differentiated explanation: digital art by well-known artists in NFT form tends to retain its value because collectors continue to appreciate and demand it. First and foremost, it seems that consumer NFTs, which in principle can be produced quickly and mindlessly – collectibles, everyday goods and skins valued by artificial rarity – seem to be the first to be affected.
Game publishers have so far stuck stubbornly to the concept. Ubisoft would also like to sell skins in NFT form in the future, Square Enix has recently sold brands such as Tomb Raider and Deus Ex and associated development studios relatively cheaply so they can invest in blockchain concepts and more .