A more suitable director than Sam Raimi, who came on board after "Doctor Strange" director Scott Derrickson ("The Black Phone") left creative differences, could have been chosen for "Doctor Strange in the Multiverse of Madness"I can't even imagine. After all, the 62-year-old not only co-founded modern superhero cinema with his 'Spider-Man' blockbusters, he's also known for his visually immensely creative horror films such as the 'Evil Dead' trilogy. . Unsurprisingly, "Doctor Strange 2" is particularly exciting when Raimi can let his unmistakable horror sensibility run wild – within the confines of the slated PG13 youth release. But if the title already promises "madness" (= "madness"), unfortunately this is rarely the case over long portions of the film, which is mainly dominated by intrigue and fan service, which many had it expected in advance.
Warning: In the next two paragraphs, we reveal a twist from the first third of the film, which under normal circumstances probably wouldn't be a spoiler and which is also revealed in virtually every review of the film, but which Marvel apparently deliberately kept secret. . until now. So if you don't want to know anything before, it's better to read the sequel after seeing the cinema!
When the wedding of his ex-girlfriend Christine Palmer (Rachel McAdams) is suddenly interrupted by panic in the canyons of Manhattan, Dr. Stephen Strange aka Doctor Strange (Benedict Cumberbatch) in the following fight against a one-eyed tentacle monster on a teenager he already knows from his (nocturnal) dreams: America Chavez (Xochitl Gomez) has the capacity in moments of greatest fear from one universe to another to flee. Hot on her heels is a strange force desperate to take her powers – and behind her is none other than former Avengers member Wanda Maximoff (Elizabeth Olsen), who, as the Scarlet Witch, is now finally ready to do n anything to get in, it doesn't matter. what universe to be able to find her children that she created herself Billy (Julian Hilliard) and Tommy (Jett Klyne) in "WandaVision"…
No matter what universe Doctor Strange (Benedict Cumberbatch) finds himself in at this time, protecting America Chavez (Xochitl Gomez) always comes first.
Scarlet Witch is one of the MCU's most compelling villains to date! Not only is Elizabeth Olsen ("Martha Marcy May Marlene") no doubt as an actress anyway, but the once-so-generous witch is also trustworthy in all cruelties thanks to the pain of vision loss. and his imaginary family, which is deeply and credibly anchored in "WandaVision" to finally be able to feel a moment of happiness again. You're really scared of this Wanda Maximoff – and so the antagonist emotionally holds together a movie that otherwise threatens to crumble again and again, not just because of the multiverse narrative.
On the other hand, Doctor Strange's self-doubting struggle for his place in the various universes remains underwhelming – also due to numerous high-profile short appearances that serve more fan service than delving into the moral dilemma. central. America Chavez gets even less space: Although newcomer Xochitl Gomez ("The Babysitters Club") displays infectious energy, her character is confined to her role as plot driver except for a brief flashback . The same goes for Rachel McAdams ("Game Night") comeback, between whom and Benedict Cumberbatch this time the sparks don't really fly in any universe.
Dare more superhero slashers!
But hey, what you want to see here above all else is the hopefully unchecked madness with which Sam Raimi throws himself headlong into staging multiverse horror – and when he does that, he keeps going to vomit unnecessary plot – Detour (keyword: Illuminati aka fan service in a six-pack) immediately slowed "Doctor Strange 2" by leaps and bounds in terms of speed and quality: already after Raimi's first moment, when the already mentioned sprawling monster with a street lamp tore the entire eyeball, including the optic nerve, out of the body, you spend the rest of the movie looking forward to moments like this – and although the 28th MCU blockbuster often feels disappointing "normal" between the two, there are, fortunately, many.
In a sequence reminiscent of '80s horror movies, Raimi juggles quirky camera angles as brilliantly as he did 41 years ago in his groundbreaking legendary film, Devil's Dance. In another scene, in which the Scarlet Witch, smeared in red motor oil, smashes her way through a group of superheroes in the "Carrie" memoir look, "Doctor Strange 2" even turns into a kind of comic slasher in the meantime. With so much skill, Raimi skirts atrocities yet to be seen in the MCU that the fade isn't particularly noticeable right now. And as soon as "In The Multiverse Of Madness" finally embarks on a detour through the realm of the undead laced with macabre humor, the "Army of Darkness" mastermind is of course definitely in its element anyway.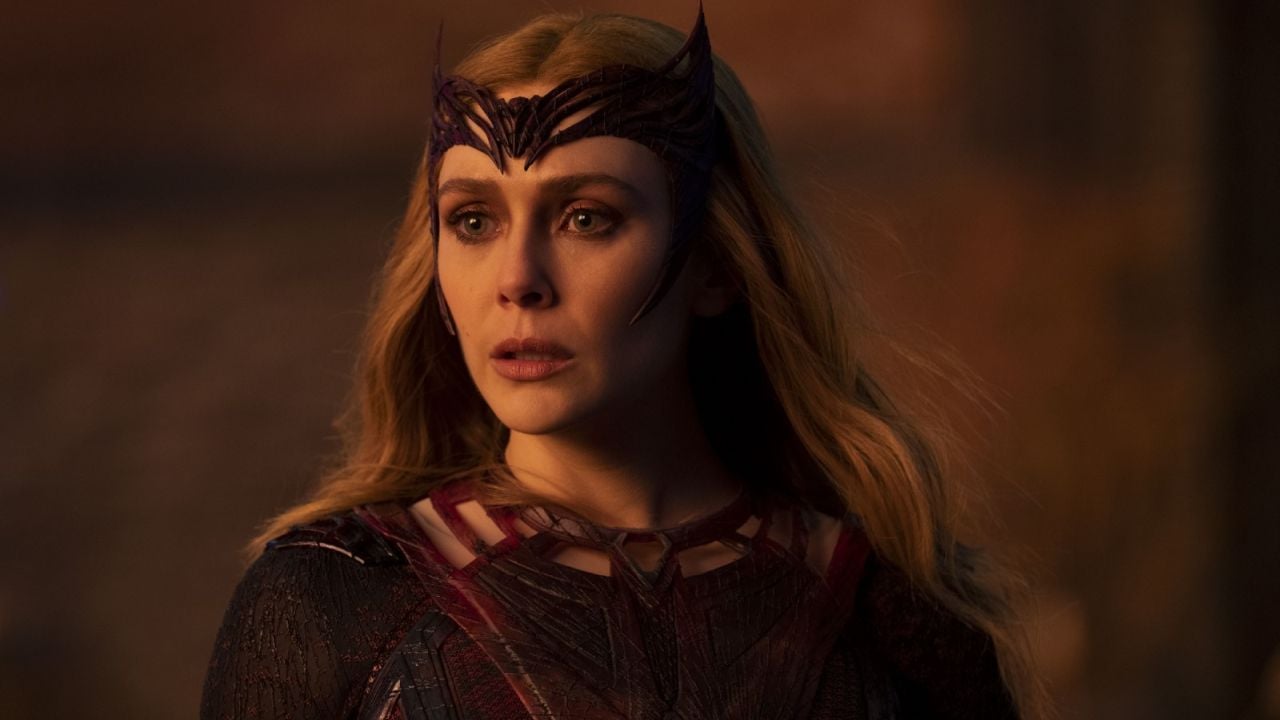 The beating heart of Doctor Strange 2 is unquestionably the magnificent Elizabeth Olsen.
On the other hand, it's somewhat disappointing that Raimi and his team operate with the handbrake when designing the multiverse outside of the horror inserts. There's a sequence at the start in which Doctor Strange and America Chavez crash through multiple universes in just seconds – including one in which everything and everyone is animated. But this reported multiverse madness is unfortunately limited to (too) a few moments. If America, with its knowledge from 72 visited universes, questions our supposed truths, because it notices with astonishment that in almost all realities it is quite normal that you have "of course" nothing to pay for your food, this won't be pursued further. Instead, it's also a preliminary skirmish for a gag that immediately follows, including another featured cameo.
After two hours and six minutes (of course you stay in the cinema until the obligatory post-credits scene) it's clear: "Doctor Strange 2" is never boring and there is always something to discover, but at the same time the film is full of missed opportunities for an even bigger throw. Apparently, one only has to accept that the MCU's formula for success, including cramped cross-references and often just plain inappropriate humor, is now so established, despite leaps into different genres, that even a seasoned author like Sam Raimi only spend a few more minutes here and there can burst from her there…
Conclusion: For the complete drone Multiverse Madness we always recommend "Spider-Man: A New Universe" or "Everything Everywhere All At Once". But even if "Doctor Strange 2" feels like another typical MCU entry for the most part, Sam Raimi pulls wondrously weird enough from "his" intercut horror scenes to do so, despite PG-13 restrictions and the pros. delivering an (almost) always fast-paced, well-entertaining comedy blockbuster with fanservice that isn't always exciting.